 THE ULTIMATE LASER HAIR RESTORATION CAP FOR BOTH MEN & WOMEN
INTRODUCING BIOLIGHT MEDICAL HAIR THERAPY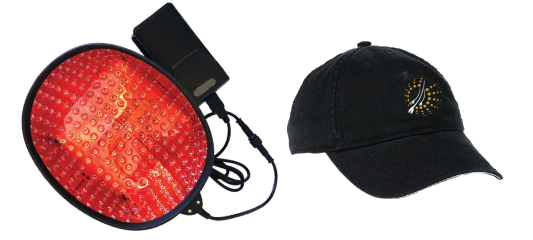 BIOLIGHT Medical Hair Therapy uses photobiomodulation or Low-Level Laser technology (LLLT) to rejuvenate and treat hair thinning in patients with androgenetic alopecia. The laser light stimulates the hair follicles and provides uniform scalp coverage, reduces thinning, and promotes hair growth. BIOLIGHT Medical Hair Therapy features 272 cool laser diodes and is powered by the provided rechargeable lithium battery. The device can be easily inserted and worn into most caps or hats.  While you are getting your treatment, you are fully mobile to go about your daily activities, and you can even share the device with other family members.

BIOLIGHT Medical Hair Therapy is an effective tool in the treatment of hair loss and for promotion of hair growth. It uses FDA-cleared laser hair therapy which increases blood circulation and stimulates the activity of hair follicles. The result is reduced shedding and thinning, lengthening of your hair's growth phase, increased hair diameter, and increased growth velocity. Unlike other devices like helmets or combs, BIOLIGHT Medical Hair therapy provides uniform scalp coverage, with results seen in 3-6 months.
EFFECTIVE. BIOLIGHT Medical Hair Therapy is effective at decreasing hair shedding and reactivating your hair growth cycle.
SAFE. BIOLIGHT Medical Hair Therapy has no known side effects. The cool-to-the-touch laser diodes are comfortable and won't burn.
AFFORDABLE. BIOLIGHT Medical Hair Therapy comes powered with an incredible 272 laser diodes, just like those used in clinical studies. There are no ineffective or sham LED diodes. Your BIOLIGHT comes with a free battery pack and can be shared with other members of your household.
FDA-CLEARED. BIOLIGHT Medical Hair Therapy is FDA-cleared as safe and effective for the treatment of hair loss caused by common alopecia.
PART OF YOUR HAIR RESTORATION SOLUTION. BIOLIGHT Medical Hair Therapy can be used as a stand-alone treatment, or as part of your comprehensive hair restoration solution in combination with prescription medications, topical solutions, and before and after hair transplant surgery. Low-level laser therapy such as BIOLIGHT Medical Hair Therapy may enhance the overall effect of your other hair restoration solutions.
THICKER FULLER HAIR IN JUST 7 MINUTES A DAY!
Use your BIOLIGHT Medical Hair Therapy device for just 7 minutes daily!